[ad_1]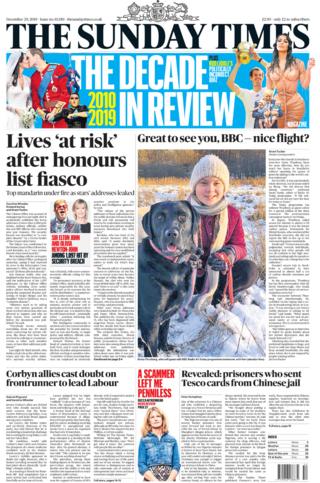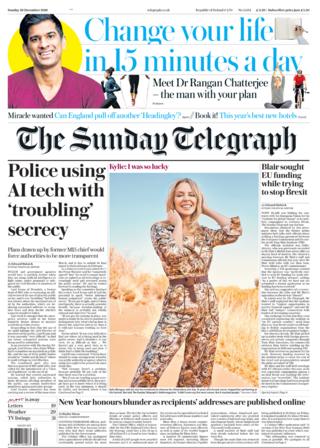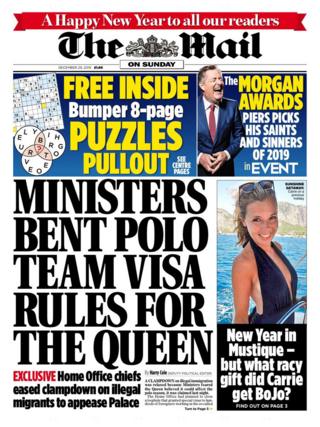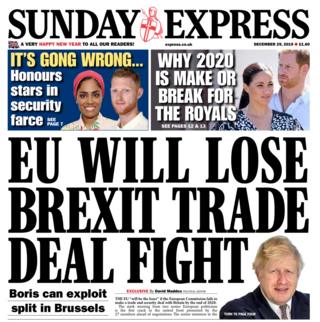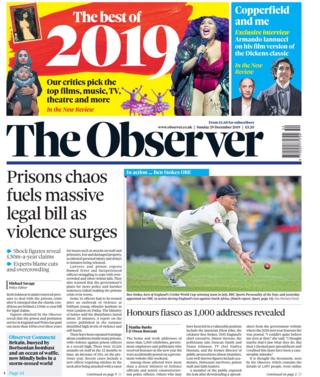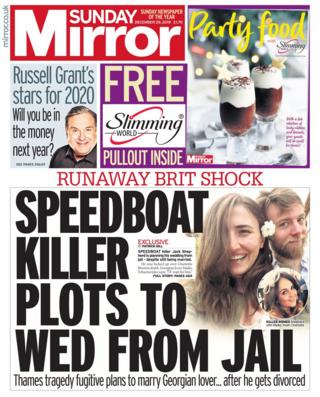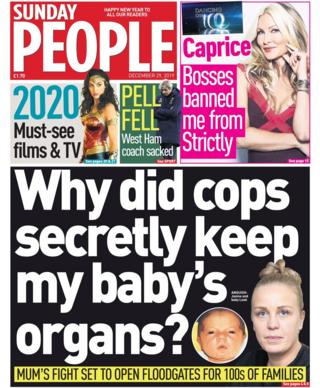 The fallout from data breach which saw more than 1,000 New Year Honours recipients have their addresses published online makes the front page of a number of papers, including the Sunday Times.
The paper has an interview with Richard Walton, the former head of counter-terrorism at Scotland Yard, who warns that security arrangements for some of the people honoured would have to be reviewed as they are employed in "extremely sensitive positions" within the security services.
The former Conservative Party leader, Iain Duncan Smith, who was knighted, described the publication of the addresses as a "complete disaster".
"New Year honours blunder," is the Sunday Telegraph's take on the situation.
The paper reports that the list was available online for about 90 minutes after it was published at 22:30 GMT on Friday evening.
The front page goes on to say that it is not known how many times the addresses were downloaded, but that the Cabinet Office could be fined up to £17m if it is found to have breached data rules.
Get news from the BBC in your inbox, each weekday morning
A report in the Mail on Sunday suggests that ministers were forced to soften what's been described as a "clampdown" on illegal immigration after the Queen became "very animated" that the measure may have affected the polo season.
The Observer, meanwhile, reports on the costs of what it calls a "surge" in violence in prisons in England and Wales.
The paper's policy editor, Michael Savage, says "chaotic conditions" behind bars are behind an £85m legal bill for the prison and probation service over the last three years.
There have been payouts for attacks on staff and prisoners, lost and damaged property and delays to inmates being released.
Lawyers and experts warn that "fewer and inexperienced" officers are struggling to cope with overcrowded and violent jails.
EU 'cracks'
The Sunday Express carries comments from two Hungarian politicians, who warn that the European Union will "be the loser" if a trade and security deal with Britain is not secured by the end of the year.
These remarks are described as the "first cracks" in the EU defence and a "slap in the face" for new commission president Ursula von der Leyen.
She had previously cast doubt on the completion of a future relationship agreement by the end of next year. The Hungarians say Ms von der Leyen must find the "political will" to conclude a deal.
Returning to the front of the Sunday Times, there is a picture of Greta Thunberg alongside her Labrador, Roxy, as the climate activist prepares to guest edit the Today programme tomorrow morning.
In an article alongside the image, the Today editor Sarah Sands reveals they considered taking the train to conduct an interview with the 16-year-old, but that time constraints meant presenter Mishal Husain was flown to and from Stockholm.
[ad_2]

Source link